Before I give that away I thought I'd give a bit of an update over where I am at with Football Manager. I always fancy a challenge every time a new version of Football Manager comes around. I'm not one for the usual locations either and often the research into my next saves starts a good few months prior to the release of the game. This year has been no different as I contemplated what Club and Country could be a possible new destination for Diego Mendoza to leave his mark on.
Creating and building a club from scratch was fun on FM21 but is probably not something I'll be going back to any time soon. All felt a bit too easy and repetitive at times last year as we tasted plenty of domestic and continental success in a very short period of time given I'd started from nothing. Anyway the past is the past and this year I'm looking for a different challenge to sink my teeth into. I've teased both myself and others with the likely destination for this challenge and my instagram feed has grown in recent months with highlights from Estonia, Lithuania, Thailand, Saudi Arabia, Latvia, Guatemala, Romania, Poland… I mean I could write a whole blog post on what I've discovered over the past 5 to 6 months.
As it is the fact that I'm writing a blog post is a miracle in itself but i've had the itch to get back writing about my save. As time consuming as it is, I feel somewhat regretful that some of my favourite saves in the last few years haven't been recorded in the history books of blogging. As such i'm going to try my best to actually chronicle some of my save this year as it develops and try to write about things that interest me in the game both from a player/save point of view but also seeing how real world situations are replicated in the FM world. The question is who got the final pick?
So as some of you that follow GrassnGear will know, i've decided to go with probably my biggest challenge yet. Scandinavia was a popular place to manage last year and there were some great saves I followed, most notably Keysi Rensie and FM Samo's GAIS and Valerenga saves. I'm always a bit uneasy about managing in Europe as the competition is very unbalanced when considering the financial muscle the big leagues are able to flex versus some of the other football federations around the world. Saying that the creation of the UEFA Conference League has given clubs from smaller nations the opportunity to have a taste of later stage Continental football. As such I'm willing to give Europe another go.
…can Diego Mendoza do it on an inclement Saturday afternoon in Torshavn?
Bóltfelagið 1936 Torshavn
Some of you may never have heard of Torshavn let alone B36 however I'm hoping over the next year you will become more familiar with both. Based in the capital city of Torshavn, Bóltfelagið 1936 Tórshavn are one of the Faroe Islands' biggest clubs, ranking third in overall competition wins behind KI and HB (more on them later). They have won the title 11 times, with their last win coming in 2015, and have had several adventures in Europe having most recently managed to get to the 3rd qualifying round of the Europa League in 2021, losing to CSKA Sofia 3-1. If you want more information on the club and its history then head over to wikipedia, the club's website or watch the below video from the fantastic Faroeball YouTube channel.
So why B36 then? Well at first the kit and logo caught my attention and then as I delved deeper into the world of B36 I quite liked the look of what is a young squad with several members breaking into the International team. I plan to look at their squad in more detail once the full game has been released and I'm in the save.
In terms of rivalries their fiercest rival and the most successful Faroese club, HB, share a stadium, which should make for a great derby and hopefully a constant rival throughout the save. On the face of things the league looks to be quite competitive however in real life KI, from the Faroe Islands' second largest town Klasvik, have run away with the 2021 title. With an impressive record of 23 wins in 26 matches and scoring 98 goals, they are going to be a hard team to beat. Other notable mentions should go to NSI and Vikingur who contain a number of national team players and have previously won the title. The final note to make on the league is that TB Tvoroyri appointed a female manager, English woman Helen Nkwocha, in the summer so it will be interesting to see how she gets on in the save.
Can B36 rewrite history and overcome KI and HB?
In terms of following them in real life, a decent website and regular informative social media content makes them easier to follow, something I missed last year with having my own team. Watching real life matches is tricky but there is a Faroese Football channel on YouTube, Faroeball, that provides weekly highlights.
Gundadalur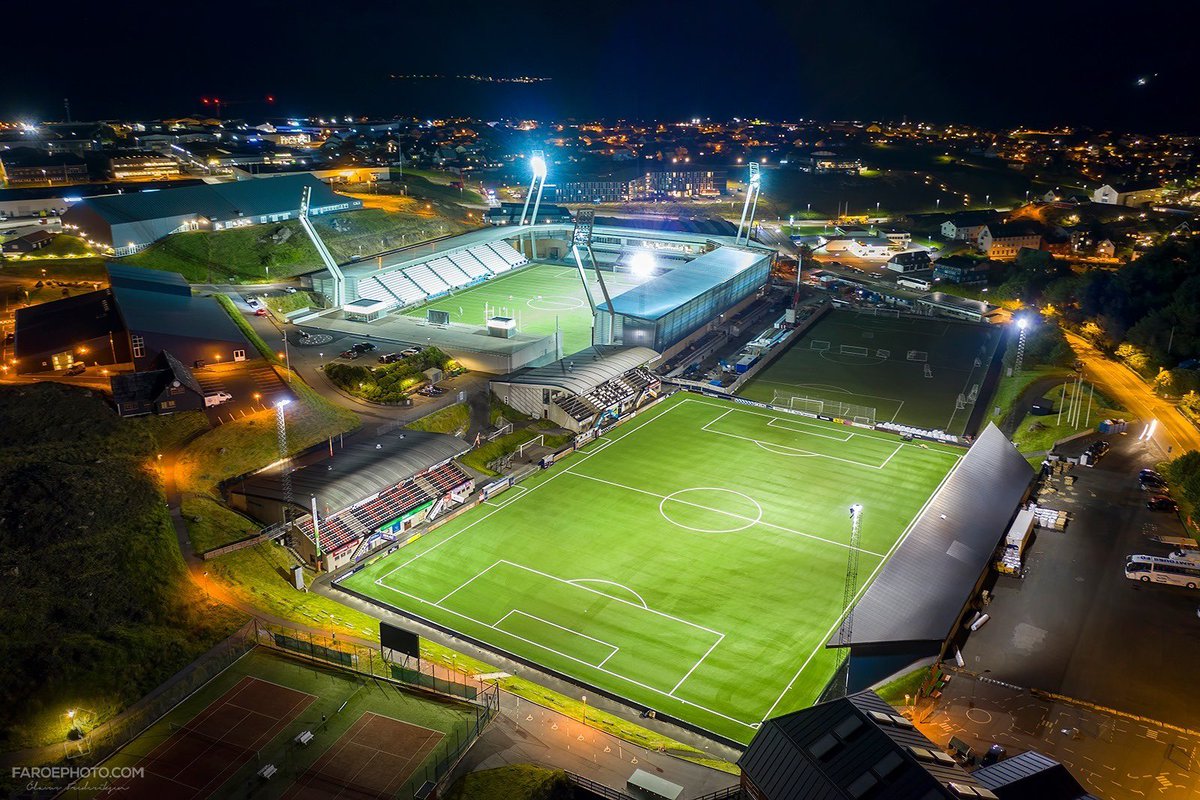 Gundadalur is located in the centre of Torshavn and is actually celebrating its centenary this year. As stadiums go, Gundadalur is quite unique as it actually has two separate stands, one for HB and one for B36. It also lies in a complex that contains three separate football pitches, Ovari vøllur hosts league matches for the two Torshavn clubs, Niðari vøllur is used for training but also the 2nd and 3rd teams of the Torshavn clubs and finally Tórsvøllur which is used for national teams matches. All three have artificial grass pitches, something I've not played on Football Manager previously .
The Faroe Islands National Football Team
The Faroe Islands itself provide an interesting story as up until 1992 all players were amateurs. Faroese football has been growing since then and a number of their players can now be seen playing in some of the bigger leagues in Europe, the most notable of these being Joan Simun Edmundsson who plays for Waasland-Beveren in Belgium and Brandur Hendriksson who plays for Helsingborg in Sweden. Scotland fans know all too well the danger the Faroe Islands can cause them and it was only recently that they were again given a run for their money by one of the minnows of Europe. What is even more interesting about football in the Faroe Islands is that despite it only having a population of 53,000 people (roughly the same population size as Barry), it has over 7,000 registered footballers (13% of the population). With such a love for football in the country the potential to improve the Faroes status further in the virtual world of Football manager was too good an opportunity to pass up.
I am however not saying this is going to be easy, there will be some serious challenges coming my way and in my head the plan I've got is to try and call them out now and hopefully then expand on them in further blog posts as the save progresses. Some may become irrelevant and as such never happen or some new challenges may emerge that I end up writing about. Or real life will get in the way and I'll cover them via my more recent method of tweets and interaction.
Sussing out the competition
I will not be able to compare the ability of an average member of the B36 squad with a player from a club most FMers will manage this year.  When playing in smaller nations and leagues it's more about sussing out where your players sit in terms of ability versus the rest of the competition rather than having lots of attributes in double figures.  I'll decide which attributes are the most important for how we want to play, both domestically and abroad, and what does good look like in the Faroe Islands? This should then help me shape what foreign talent I bring in to improve the squad. Will we see a few South Americans playing in Torshavn? Let's hope so.
Tactics for inclement weather
The one thing that is often written in the all articles I've read as part of my research into Faroese football is the weather. As such it would silly not to have a look at this topic throughout the save, especially as us Brits are obsessed by the weather.  Whether the weather (I know, I know) has as much impact in FM as it does in real life is something I hope to find out. Hopefully we'll see unpredictable long shots and crosses in gale force winds or snow covered pitches causing carnage at the back.  I'm also intrigued by playing on artificial surfaces too and what impact, if any, they have on certain playing styles.
Turning a semi-professional league professional.
I also noticed during my research that all teams in the Faroe Islands are currently semi-professional. This means that I'll have to take a slightly different approach to training and transfers. Saying that I do believe that success can change that so it'll be interesting to see how things change as the save progresses and hopefully I'm able to develop the league to a point all clubs are professional.
Training Semi-Professional Teams
The reality of the save is that until B36 can turn professional, I am only going to have the squad 2 or 3 days a week to train and one match day. I'm going to have to think really carefully about what training I want them doing. It is something I'm going to have to develop from experience as the save progresses as currently I'm unsure whether a reactive or proactive approach is going to have the most effect on the team in both the short and long term.
Dynamic Youth Rating – Can I actually improve the level of player produced in the Faroe Islands?
I'd already decided on this save before the dynamic youth rating was announced but this has certainly added a new element to the save. I'll be managing the national side so i'm really interested to see how our youth development at club level and improved results on a continental and international level drive the level of the next generation.
Youth development – How I use/should use 2nd and 3rd teams to develop the players of the future.
This is an area that I've looked at in previous saves but has maybe been neglected a bit more recently as haven't had the teams in visible leagues in order to monitor. B36 will be different as their II team play in the 2nd division and their III team play in the 4th/5th division I believe. With training time being limited initially due to B36's semi-professional status, match experience and playing time is going to be our main tool to help bring through the next generation of B36 and hopefully Faroese footballers. In my initial research there are also a number of veteran B36 players available for the B and C teams so I'll be looking at how I can utilise these to both mentor and show the younger generation how it is done.
Giant killing – Stick or twist? Attack or Defend?
We are going to have to do a lot of giant killing if I'm going to bring Faroese Football into the spotlight. It's not something I haven't done before in previous FM saves but I have always been of the opinion that I should play the way I always play and see what happens. I think this time around I'm going to have to be more conservative and actually quite fancy the challenge of developing a more defensive tactic (I know I know, I feel dirty even saying the word). It's been a long time since I've employed three at the back but maybe FM22 is the time to bring it back.
Final Thoughts
So there you have it, my first bit of FM writing for a long time and I must say I've thoroughly enjoyed pulling everything out of my head and putting it on to paper (wordpress). There's not a lot else I can do save wise until the editor is released and I can get everything setup, hopefully it should be case of just importing a league edit straight from FM21 given I'll be starting in January 2021.  In the meantime though I've been busy getting the admin/graphics ready for the start of my journey.  I've made the 3d kits for B36 which have taken longer than I'd have liked due to the sheer number of sponsors on their shirt.  If anyone would like to volunteer to make the rest of the league that'd be fantastic, if not I'll try and make them as I go along.  Also need to get myself sorted with 2d kits and have been tempted to move from SS to FC'12 this year but I'm just going to suss out availability.  Again if anyone has or fancies making either of these styles for the Faroe Island clubs that'd be brilliant.
I'm over 2000 words so best stop now and save my fingers for another day. Bring on the 9th November!
Disclaimer – All the images used were taken from either Google image search or directly from the B36 Torshavn website or social media.